RootSeven Systems for Server Communications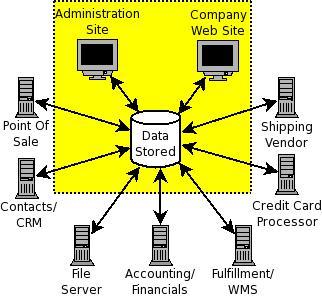 RootSeven provides more than a dynamic web presence for your company. Your data is stored in many places, and whether you need the information communicated with your customers via the Company Website, your remote staff via our Administration Site, or your other systems, we provide the tools to keep your transactions in sync. Whether you need sales polled from your Point of Sale systems to your Merchandising Software, or just want to have you local image catalog posted for online browsing, we'll provide a secure, fast method to distribute the data and files.

Using XML communications over HTTPS and an internal mechanism for maintaining transactions, we synchronize sales, inventory, products, customers, and more in nearly real-time to our customers. For many, we provide Windows or UNIX based client applications to communicate with their file systems, databases, or software API's. For others, we simply provide our XML dictionary to, and they take it the rest of the way using the client or programming language they are comfortable with.

This system can be a convenient method of automatically updating your website or distributing data collected by your website. This system can be used as an Intranet for your company providing secure access to data from remote locations without allowing direct access to your systems. This system can provide new interfaces to access or manage data in your existing applications.

For More Information, contact our sales or technical staff.